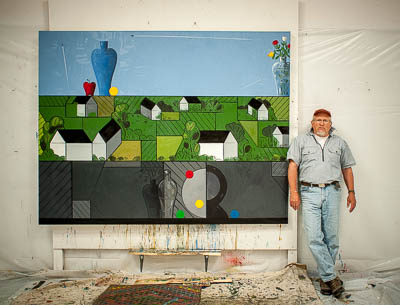 Since Richard Thompson began painting in the 1960's, he has used a visual vocabulary of landscape and still life images. Now, fifty years later, those images continue to mature. The paintings grow from all that he sees and all that he thinks about in the world around him. Over the last decade Richard has explored the rural, agricultural landscape of the American west with its distant horizons, far away mountains, geometric field patterns and farm buildings seen as if they are still life elements on a wide, vast table.
Richard has been included in many high-profile exhibitions including the 1975 and 1981 Art Biennial Exhibition at the Whitney Museum of American Art in New York. Recently, Richard was one of 15 artists selected for Portland2014: A Biennial of Contemporary Art, curated by Amanda Hunt, Curator at Large for LA><ART, Los Angeles. His art has been exhibited at the Smithsonian Institution in Washington, D.C., the Palm Desert Museum in Palm Springs, California, the Portland Art Museum in Portland, Oregon, the Modern Art Museum, Ft. Worth, TX and others. Richard's work has also been the subject of several museum one-person exhibitions in the Northeast and Southwest.
A testament to the value of his art, Richard's works are included in several permanent collections in the United States and abroad. These include the Museum of Fine Arts, Houston, the Modern Art Museum of Fort Worth, the San Antonio Museum of Art, the Gund Collection in Boston, the Portland Art Museum, the Goode Collection in Washington, D. C., the Hallie Ford Museum, Salem, OR, the Anderson Museum of Contemporary Art, Roswell, NM, and the Edinburg Museum of Modern Art in Scotland. Corporate collections include Apple, Austin, TX, Fidelity Corporation, Ft. worth, TX, and Sprint Corporation, Kansas.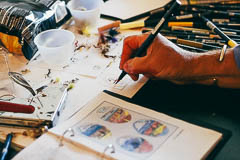 In addition to his creative career Richard has enjoyed a thirty year academic career including service as Dean of the School of Art and Design at Alfred University in New York and as a Professor of Painting at the University of Texas at Austin. Since the early 1990's Richard has maintained a studio in Oregon and in 2011 he returned to his hometown of Dayton. Currently he is working full-time in the studio and, when not in the studio, he is fly fishing for trout in the lakes and streams of the Pacific Northwest.
Richard's obituary can be found
here